Overview
Plantar Fasciitis is an inflammation caused by excessive stretching of the plantar fascia. The plantar fascia is a broad band of fibrous tissue which runs along the bottom surface of the foot, attaching at the bottom of the heel bone and extending to the forefoot. When the plantar fascia is excessively stretched, this can cause plantar fasciitis, which can also lead to heel pain, arch pain, and heel spurs.
Causes
It is common to see patients with Plantar Fasciitis who have been wearing shoes that are too soft and flexible. The lack of support can be stressful on the heel for those patients who's feet aren't particularly stable. If these ill fitting shoes are worn for long enough, the stress will lead to Heel Pain as the inflammation of the fascia persists. Footwear assessment and advice will be essential in order to get on top of the Plantar Fasciitis. It may surprise some people to learn that high heeled shoes are not the cause of Plantar Fasciitis, although they can cause tight calf muscles. High arches can lead to Plantar Fasciitis. This is due to the lack of contact under the sole of the foot. Even sports shoes which appear to have good arch support inside are often too soft and not high enough to make contact with the arch of the foot. Hence, the plantar fascia is unsupported. This can lead to Heel pain and Plantar Fasciitis. Flat feet can lead to Plantar Fasciitis. Flat feet is caused by ligament laxity and leads to foot instability. Other structures such as muscles, tendons and fascia work harder to compensate for this instability. Heel pain or Plantar Fasciitis arises when the instability is too great for these other structures to cope with. The strain on the fascia is too severe and the inflammation sets in. Over stretching can lead to Plantar Fasciitis. Certain calf stretches put the foot into a position that creates a pulling sensation through the sole of the foot. This can cause Plantar Fasciitis which can cause pain in the arch of the foot as well as Heel Pain.
Symptoms
Plantar fasciitis typically causes a stabbing pain in the bottom of your foot near the heel. The pain is usually worst with the first few steps after awakening, although it can also be triggered by long periods of standing or getting up from a seated position.
Diagnosis
Physical examination is the best way to determine if you have plantar fasciitis. Your doctor examines the affected area to determine if plantar fasciitis is the cause of your pain. The doctor may also examine you while you are sitting, standing, and walking. It is important to discuss your daily routine with your doctor. An occupation in which you stand for long periods of time may cause plantar fasciitis. An X-ray may reveal a heel spur. The actual heel spur is not painful. The presence of a heel spur suggests that the plantar fascia has been pulled and stretched excessively for a long period of time, sometimes months or years. If you have plantar fasciitis, you may or may not have a heel spur. Even if your plantar fasciitis becomes less bothersome, the heel spur will remain.
Non Surgical Treatment
The following recommendations are appropriate. Wear shoes with adequate arch support and cushioned heels; discard old running shoes and wear new ones; rotate work shoes daily. Avoid long periods of standing. Lose weight. Stretch the plantar fascia and warm up the lower extremity before participating in exercise. For increased flexibility, stretch the plantar fascia and the calf after exercise. Do not exercise on hard surfaces. Avoid walking barefooted on hard surfaces. Avoid high-impact sports that require a great deal of jumping (eg, aerobics and volleyball). Apply ice for 20 minutes after repetitive impact-loading activities and at the end of the day. Limit repetitive impact-loading activities such as running to every other day, and consider rest or cross-training for nonrunning days.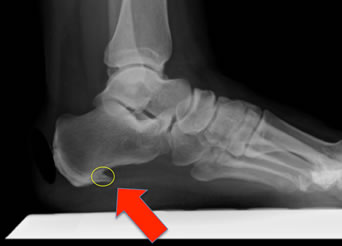 Surgical Treatment
In very rare cases plantar fascia surgery is suggested, as a last resort. In this case the surgeon makes an incision into the ligament, partially cutting the plantar fascia to release it. If a heel spur is present, the surgeon will remove it. Plantar Fasciitis surgery should always be considered the last resort when all the conventional treatment methods have failed to succeed. Endoscopic plantar fasciotomy (EPF) is a form of surgery whereby two incisions are made around the heel and the ligament is being detached from the heel bone allowing the new ligament to develop in the same place. In some cases the surgeon may decide to remove the heel spur itself, if present. Just like any type of surgery, Plantar Fascia surgery comes with certain risks and side effects. For example, the arch of the foot may drop and become weak. Wearing an arch support after surgery is therefore recommended. Heel spur surgeries may also do some damage to veins and arteries of your foot that allow blood supply in the area. This will increase the time of recovery.
Prevention
Preventing plantar fasciitis is crucial. There are many choices to help prevent the occurrence of this condition, and keep it from returning. One of the most important is maintaining a healthy weight in order to reduce tension on the plantar fascia. In addition, shoes are very important, and should fit well and provide ample cushioning and support throughout the heel, arch, and ball of the foot so that weight is distributed evenly throughout the foot. Try to avoid walking barefoot on hard surfaces and replace old shoes before they wear out, especially shoes that you run or exercise in. When exercising, start off slow and ease into new routines to prevent sudden or excessive stress on tissue. Lastly, keep your calf muscles and the tissue of your feet stretched. Greater flexibility in the tissue makes them less susceptible to damage.